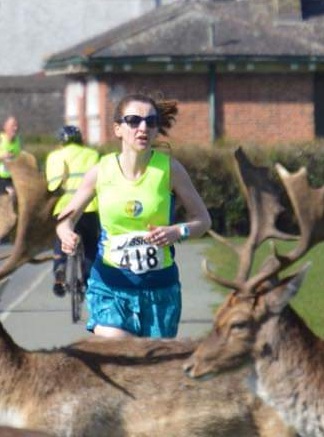 Meet Brigid Reilly
Name

Brigid

Date

01/07/2019

When did you join the club?

February 2018

What kind of running experience did you have before joining?

I first started in 2012..I was able to run about 2k before getting a stitch and then I would walk a bit before trying again. I gradually worked up to running about 5/6k twice a week. Once I started seeing improvements I was motivated to run further and more frequently.

What motivated you to join?

I hadn't ran a PB in a 5k for over 2 years and had just completely plateaued. I had shifted my focus to longer distance events (chasing the PB high!) and had just ran my first half marathon in November but I knew I was still limited if I wasn't to work on my speed. I was intimidated at the prospect of joining a club and had all the usual worries about being too slow,unfit etc. but my worries were unfounded. The sessions are structured in a way that novice and more experienced runners alike can push themselves to their own limits. Also, everyone at the club is so friendly and supportive. It is really is the perfect environment to be your best.

What improvements have you noticed since joining?

In a word 'unbelievable'. I have improved my times across every distance but I think my improvement was best illustrated in the club cross county championship. I ran this race March 2018 a few weeks after joining the club in a time of 25:08. A year later on the same course, I ran a time of 21:34.

What do you like about running?

Achieving goals, overcoming challenges but mostly I just enjoy getting outside and running. I find it is the best way to clear my head and feel refreshed. I often start out on a long run feeling tired and sluggish but as we weave around Phoenix park parameters I start to feel much better and get distracted by the chatter of club-mates and often end the run feeling amazing.

What is your preferred race distance?

Hard to say, I enjoy the challenge of a longer distance event like a half marathons but I also enjoy racing as often as possible so for that reason probably 5k-10k as you don't take as long to recover.

What was your most memorable race moment?

Avondale cup this year. A herd of deer ran out in front of me – See photo!

Whats your favourite session?

Miles…We do mile laps in winter and I relish the crisp quietness of Phoenix Park on a winters night. The initial feeling of exertion gets overshadowed by the feeling of pure joy that comes with running fast.

What is your proudest running achievement?

I've had quite a few but I think running a PB in the Tom Brennan 5k on New years day in Phoenix park was the best. The Tom Brennan race is LVAC annual race event and has around 600/700 runners. Most of the club members are coordinating and marshaling at the event so it's a real privilege to get to run it. I was being cheered on my club-mates all the way around the course and it felt like having home advantage. I ran a time of 20.37 and our ladies team placed 2nd. It was a somewhat surreal moment as I honestly never thought I was physically capable of running anything close to that time and yet soon after I crossed the finish line I had mentally set my sights on sub 20 mins!