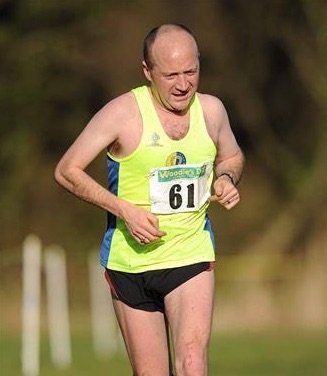 1995 Profile of Alan Merriman
Alan Merriman has made major strides since he joined Liffey Valley in 1992, helping the team to third position in the Dublin Senior in November of that year. The first months of 1993 were extremely successful for him as he won the Eastern Region Senior Cross Country Championships in Tinryland where he left World Cross Country International Tommy Maher trailing in his wake.
A few weeks later he won the National Intermediate Cross Country Championships in Dungarvan where, after an epic race with local man Jim Sullivan, he moved away on the last two laps to record a fine win.
Grit and determination are the hallmarks of the pint sized Crumlin man and he has worn the green vest with distinction. Completing in The European Cup in Rotterdam in June 1993 he ran an excellent race to finish fourth in the 10,000m, having lead three of Europe's top men for 9 kilometers.
His running has also enabled him to see the world. Japan being one of the places he has run in, being part of the Irish Team in the Eikeden Relay.
At home he has been very effective on the road. Tough training sessions under the guidance of Jim Davis has seen him win the Mazda Road Race Series on two occasions. His all action style has seen him demolish the opposition with front running tactics. A typical run from him was this years National Road Relay in Coolmine. Taking over in 10th spot he ran faster than anyone else including Annadale's British International Dermot Donnelly to bring the team home a close up fourth.
At twenty five years he has a long career ahead of him.